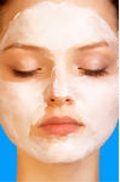 Mammalian skin often contains hairs, which in sufficient density is called fur. The hair mainly serves to augment the insulation the skin provides, but can also serve as a secondary sexual characteristic or as camouflage. On some animals the skin is very hard and thick, and can be processed to create leather. Reptiles and fish have hard protective scales on their skin for protection, and birds have hard feathers, all made of tough β-keratins. Amphibian skin is not a strong barrier to passage of chemicals. A frog sitting in an anesthetic solution will quickly go to sleep.
The outermost epidermis is consists of stratified squamous epithelium with an underlying basement membrane. It contains no blood vessels, and is nourished by diffusion from the dermis. The main type of cells which make up the epidermis are keratinocytes, with melanocytes and Langerhans cells also present. The epidermis can be further subdivided into the following strata (beginning with the outermost layer): corneum, lucidum, granulosum, spinosum, basale. Cells are formed through mitosis at the innermost layers. They move up the strata changing shape and composition as they differentiate, inducing expression of new types of keratin genes. They eventually reach the corneum and become sloughed off (desquamation). This process is called keratinization and takes place within about 30 days. This layer of skin is responsible for keeping water in the body and keeping other harmful chemicals and pathogens out.
The constantly peeling off dead cells of the epidermis mix with the secretions of the sweat and sebaceous glands and the dust found on the skin to form a filthy layer on its surface. If not washed away the dirt and dead skin slurry begins to decompose emitting a foul smell.
Your skin is your armor, your shield from the elements. Yet when was the last time you really thought about what you need to do to take care of it? Throughout your life, genetic and environmental factors will cause a lot of wear and tear to your skin. But you are never too young or too old to start taking care of your skin.
If you take care of your skin, your skin will take care of you! But with all of the lotions, creams, and potions on the market, it can be difficult to know which product will work for you. Many products claim to remove wrinkles or heal dry skin. Others claim to contain expensive ingredients that they say will improve the effects of the product.
Dry skin is very common, especially with age. Older skin has fewer sweat and oil glands than younger skin. Dry skin may be caused by frequent baths, certain cosmetics or medications. But whatever the cause, there are ways to alleviate the itchiness associated with it. Avoid using harsh soaps when bathing, and if possible, cut back on the number of baths or showers each week. A sponge bath with warm water may help to clean and revive skin without stripping the skin of its valuable moisturizers.